Foam in Recording Studios
Our trade foam is perfect for a range of applications, including recording studios that require acoustic treatment to improve sound quality. We can supply foam cut to any shape or size, and offer a price beat guarantee for all of our Trade Foam.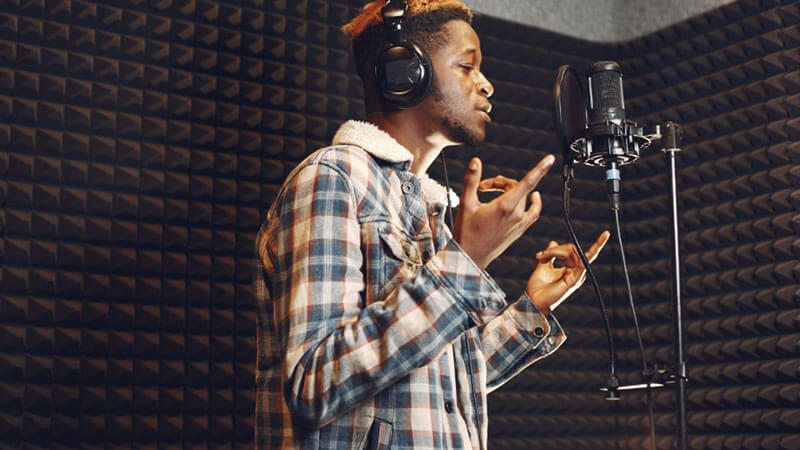 How Is Foam Used In Recording Studios?
Acoustic foam has a number of purposes in a recording studio. Its flexibility and open cell structure helps to absorb the sound waves and work to enhance sound clarity. Foam is the main material used in acoustic panels in recording studios, as it allows sound absorption to keep the studio as soundproof as possible.
Different thicknesses of acoustic foam are beneficial for creating different acoustic foam panels depending on requirement. We offer a range of acoustic foam types and can even accommodate custom soundproofing foam orders which are ideal for studio foam panels.
Absorb Sound
Acoustic foam will reduce the pick-up of loose frequencies when recording, making the recording and monitoring process much cleaner and more defined. Acoustic foam tiles help with sound absorption as they help to eliminate echoing noise from walls, ceilings and floors. Sound wave energy typically reflects off of hard surfaces such as concrete or drywall, and quality acoustic foam products will work to combat this.
Enhance Clarity
When recording music you want the sound to be as clear and prominent as possible. Installing acoustic foam will help to prevent sound interferences, allowing for the desired sound to be heard and recorded as clearly as possible.
Does Your Business Require Foam?
Designed to improve the quality of acoustics in a recording studio, our trade foam can be cut to any shape or size to fit your specific needs. Foam Superstore offers a range of high-quality trade foam products and foam cut to size for recording studios. If your recording studio needs any acoustic treatment products, get in touch with the team today!