Boat Seating Boxed Cushion Covers
Is it time to update the interior of your boat? At Foam Superstore, we offer replacement boat cushion covers, made to any required shape or size and with the option to include new foam infills.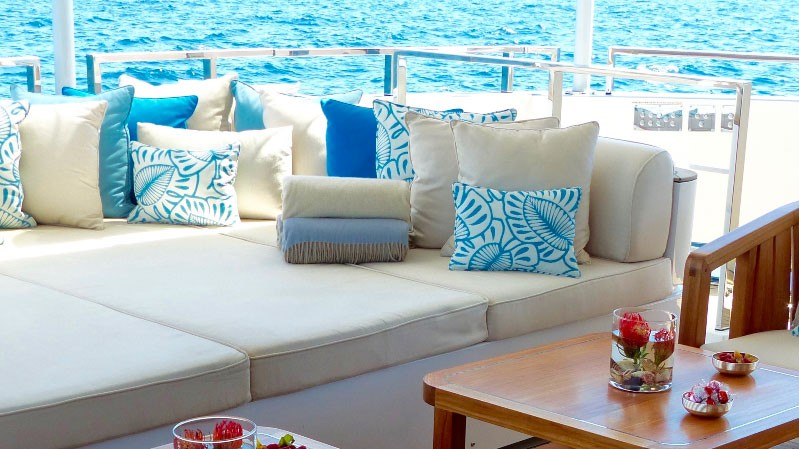 Boat Seat Cushion Covers:
With an abundance of fabrics you can tailor every aspect of your cushions, restoring your boat to its former glory! From simple plain colours to traditional and contemporary patterns, we have over 500 fabrics to choose from. Just add new foam cushion inners and choose a foam grade that matches your required level of firmness and comfort.
At Foam Superstore, we offer a fast and reliable service! Our made to measure boat seat cushion covers take 10 working days to handcraft in our Newcastle workshop (a MINIMUM ORDER of £35 required)!
Choose a suitable boat cushion shape below and insert your required dimensions. If you can't see the shape you need, you can select 'Custom Template' and send us a carefully made cushion template for us to copy.
Browse by Fabric Type
Unsure on the best fabric for your covers? Get in touch
Welcome to FoamSuperstore: Boat Seat Cushion Covers
Upgrade your boating experience with our premium Boat Seat Cushion Covers at FoamSuperstore. We understand the importance of comfort and durability when it comes to marine seating, and our specially crafted cushion covers are designed to enhance both.
Unparalleled Comfort on the Water
Our Boat Seat Cushion Covers are made from high-quality foam that provides unparalleled comfort for those long days on the water. The carefully selected materials ensure that you can enjoy a plush seating experience while absorbing the shocks and vibrations that come with boating.
Superior Durability
At FoamSuperstore, we prioritize quality, and our Boat Seat Cushion Covers are no exception. Engineered to withstand the harsh marine environment, these covers are resistant to water, UV rays, and other elements that can compromise the integrity of traditional cushions. Say goodbye to worn-out, weathered seat covers – our products are built to last.
Customizable Options
We understand that every boat is unique, which is why our Boat Seat Cushion Covers come in a variety of sizes and colors. Whether you're looking to match your boat's aesthetic or simply want a fresh, new look, FoamSuperstore has you covered. Choose from our range of options to personalize your boat seating to your liking.
Easy Maintenance
Enjoy your time on the water without the worry of complicated maintenance. Our Boat Seat Cushion Covers are easy to clean and maintain, ensuring that your boating experience remains hassle-free. Simply wipe away spills and stains with ease, keeping your boat looking sharp trip after trip.
Why Choose FoamSuperstore?
Expert Craftsmanship: Our Boat Seat Cushion Covers are crafted with precision and care to meet the highest industry standards.
Fast Shipping: Experience the convenience of fast and reliable shipping, ensuring that you receive your products promptly.
Customer Satisfaction: FoamSuperstore is dedicated to customer satisfaction. If you have any questions or concerns, our friendly and knowledgeable customer service team is here to assist you.