Foam in the Sports Industry
Here at Foam Superstore we specialise in the manufacturing of Sport protection equipment made by PU foam and other foam materials.
How Are Foam Materials Used In The Sports Industry?
Foam protection is essential in the sporting industry for the safety of athletes and participants. Contact sports and sports involving tumbling will utilise the soft properties of foam as a brace on impact, collision or landing on the ground. We have vast experience at manufacturing some of the most durable sports crash pads, that have been used in televised events such as the UK's Strongest Man. You can find a whole range of foam products in sports applications ranging from padded matts and equipment, to artificial turf and surfaces.​​
MST Systems founder, Shane Jerman has over 10 years experience in Strongman globally, and has collaborated with Foam Superstore to manufacture durable strongman equipment. Find out more about Shane here!
Glenn Ross owner at ultimate strongman described our log pads as a "Rolls Royce" product.
What can our pads be used for?
A select few examples of how foam can be used in the sports industry include:
Safety Mats
Foam is widely used as a cushioning material in safety mats for a variety of different sports including gymnastics, wrestling, bouldering and martial arts. Flexible polyurethane foam is most commonly used for this purpose as the material used for the safety mats has impact absorption, which ensures any fall to the ground is soften by protection foam.
Soft Plays
Soft plays utilise a variety of foam for different purposes, from foam pits to foam padded flooring and walls. Soft play equipment is typically made with dense foam covered by a faux leather PCV. The combination of these two materials allows it to be easy to clean and maintain whilst ensuring the material remains safe and soft for play.
Gymnastics
Cubes of polyurethane foam, also known as PU Foams, are commonly used for dismount pits, helping to dramatically reduce the chance of injury, making them great for training purposes. Just like with safety mats, the durability of gymnastic equipment can depend on the quality of the foam used, emphasising how important it is that the right foam is used.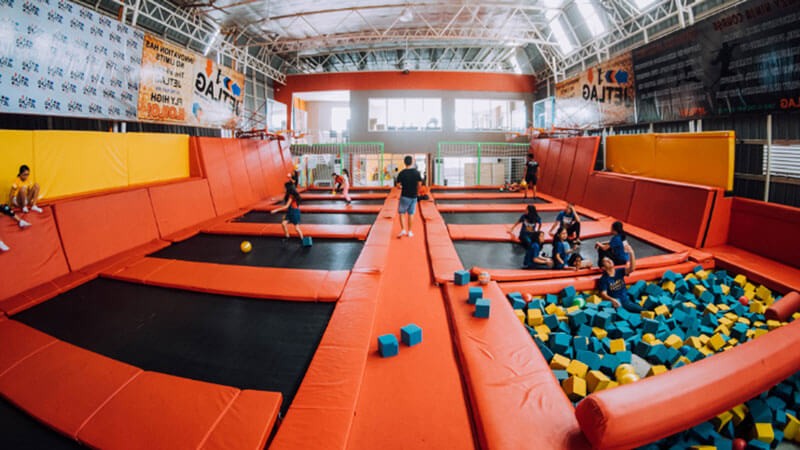 We can provide foam cut to size for a range of purposes.
We can make Sports Pads with company prints and logos built to any shape or size.
Contact our expert team today to see how we can help your business in the sports and leisure industry.